Creative IT, based in Central London, has been serving London, UK customers for the past 15 years. We have made a name for ourselves for offering expert laptop and computer repair solutions to businesses and home users at unbeatable prices. Our highly trained laptop and computer engineers and technicians will promptly and resourcefully put into practice the perfect solutions to all your entire PC computer, laptop, Apple Mac and data recovery requi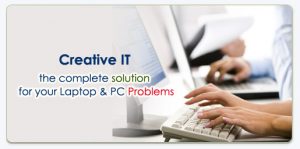 rements. All our work is guaranteed, and we will do everything we can to make certain that every customer is happy.
Our computer, server and laptop repairing service have a team of highly skilled technicians, who have in-depth knowledge in computer and laptop repairs. They provide comprehensive support and repair solutions for home users and also for both public and private sector organizations in London and throughout the UK. Moreover, they ensure that your faulty computer systems and laptops are repaired to the highest standards. If you need your laptop computing devices repaired, whether it is a current model or out of production model, Creative IT is here to help you.
Our engineers and technicians can also come to your home or small business to solve your laptop computer troubles. Whether you want to enhance your computer's performance, upgrade your laptop hardware, install a network or recover data from any operating system or storage media, we can help with all your computer service needs! Don't hesitate to contact us at 020 7237 6805 today with your repair request. From broken power jacks to cracked LCD screens we can do it all! We have one goal as a company and that is to make our customers happy by providing a great service at a great price.